22 Awesome Accent Wall Ideas for Your Offices
---
Reach out to our sales team to get your next project solved!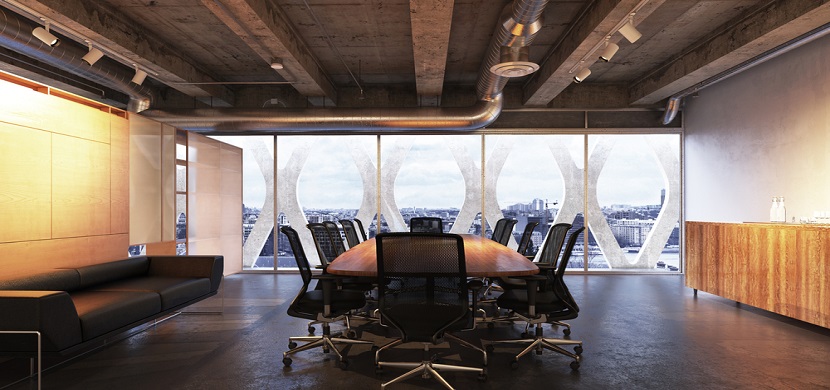 Walls play a very important role in changing the style and décor of a given space. Gone are the days when plain and simple looking walls were ok to go with.
These days, walls are no longer supposed to be just walls. They are effective décor paraphernalia which helps in transforming the whole look altogether.
One such décor idea is accent walls. They help in adding zing and color to even the plainest looking interiors. Office walls are supposed to be even more garish and accented.
Let's go through these 22 awesome accent wall ideas that can completely change the way your office looks.
1. MAKE THE WALL COLORFUL
Colour is a symbol of fashion and fun. Offices are ought to be colored in the peppiest and vibrant colors. Plain and lazy colors are out. Monotony is no longer accepted.
So, go for vibrant hues and exciting color options. Color contrasts can really work wonders for your office space, making it look classy and stylish.
Go for electrifying shades like fluorescent green and fluorescent orange. They also look great with crème and whites. The idea is to color contrast.
Go for peppy polychromatic walls and not just monochrome designs and panels. A varicolored wall is ultra-cool and fashionable. A kaleidoscope of colors on the walls helps to boost up the mood and spur activity.
2. CUSTOMIZE YOUR WALL DÉCOR
The most loved décor ideas for offices are those which are customized and designed to suit personal likings. I know you might be thinking who has the time? But this is the art that really counts.
Customize your office space like the way you want it to be! Start with customizing your walls.
Choose stylish and personalized custom acoustic wall panels for offices and interiors to give your wall a new and vibrant feel. Experiment and use your creativity to make it appealing and stylish.
Architectural wall panels in beautiful designs and colors can change the whole way your office looks. Be creative and make it unique and decorative.
Offices are places which look beautiful when utmost care is taken in the most minute detail. To meet the expectations, you can choose architectural wood interior wall panels. They look warm and sincere, making your office look smart and classy.
3. GO FOR 3D WALL PANELS AND DESIGNS
Together with sassy customized wall panels, you can opt for 3d wall panels.
For those who don't know what 3d wall panels for interiors are?
They are exclusive designs for walls which bring your interiors and wall spaces to life. They are easy to install, and these decorative 3d textured wall panels are perfect for accent walls. They can be painted easily and in electrifying hues. Besides being highly decorative, they are economical and cost-effective.
4. MAKE YOUR OFFICE WALLS SWANKY
An office place should be a congenial and conducive place for growth. A plush office helps in personal growth and spurs mind-blowing creative ideas…
Make your office even more creative by decorating it with transformational textures using textured wood panels. It gives a swanky and stylish feel to any interiors
5. USE DECORATIVE PANELS FOR WALLS. "WHAT ARE DECORATIVE PANELS"
Decorative wall panels are contemporary wall panels which are natural looking wall designs and is made of synthetic and composite materials to decorate and make it look gorgeous.
3d decorative wall panels for offices come in exclusive designs and colors. You can choose textured wall panels and use decorative wall boards
Decorative wall panels come in very interesting designs. High-quality designer wall panels add classiness and look uber-cool.
6. GO FOR LARGE WALL HANGINGS IN THE CENTER
Large decorative wall arts also give a posh and stylish look. They also catch attention. You can display something which is worth all the attention on the accented wall in the center. They add funk and attract onlooker's attention. Such display art forms are very ingeniously used to distract and divert attention by interior designers to hide small and minor defects.
7. SPRUCE UP THE WALLS WITH SOME GREENERY AND FOLIAGE
Acoustic green office spaces are cordial and cooperative for growth. They help in relaxation, rejuvenation, and stimulation of the mind. Wallcreepers in green also looks great. It adds style, soothes and instantly relaxes the mind.
A healthy zone amidst this greenery and a natural background also helps in mental agility and cognitive growth.
8. USE CERAMICS AND TILES
A beautiful office is a result of hard work. Use modern and creative ideas to make it exemplary.
Modern looking offices are weather friendly zones and support all kinds of climatic conditions.
To make it all the more weather friendly, it's good to use ceramic materials in construction. Tiles are also a good option.
These days many exquisite varieties are available which give the office an attractive and modern look. Acrylic tiles for interiors are also in. They are chic and add élan to even a simple office.
Modular acoustic wall tiles are perfect for offices. They give an earthy and matte look. The finish generally suits the office environment and ambiance. They really look smart and pleasant.
9. ENTHUSE LIFE INTO YOUR OFFICE WALLS BY MAKING IT YOUTHFUL AND PEPPY
Yes, a playful accented wall looks great. It's also a big mind stimulator and helps in uplifting the mood. You instantly feel exuberant while seeing a playfully done up wall space.
Customize to add a personal touch. These days office walls are used to display some inspirational quotes and messages. You can also draw attention by hanging large wall arts displaying your office's mission and vision statements
Just avoid being boring. Be creative and add funk to your accent walls. Everyone loves creativity and creative ideas. Let the creative juices glow in big amounts
A colorful and patterned wall also looks very youthful and draws a lot of attention. You can also add a few 3d art wall panels to make it even more illustrative and arty.
10. GO FOR GEOMETRIC DESIGNS
One novice and the helpful idea are to go for horizontal and vertical designs or geometric shapes. Accent walls with geometric fusion always look catchy. They draw attention and look stylish.
Horizontal stripes help to make a room look much wider. An accented wall with geometric designs is a great way to add some distinct look to your space
You can also try using two shades of the same color to give a perky look. 3d decorative wall panels for rooms also look great with horizontal and vertical stripes
11. MAKE THE ACCENT WALL FLAMBOYANT
One great way to add style and charisma to your accented wall is by incorporating modular shelf designs. You can go for attached shelves to save both space and to use it for display. Much like the living room wall panels, office room modern wall panels also go a long way in flaunting your decoration.
Use apt decorative pieces which add to your office décor.
Make the accent wall even more flamboyant by painting the shelves (attached to the accent wall) in the same color. It looks really nice and classy. The display items put on the racks get more accentuated and attractive.
12. CHALKBOARD PAINT AND BLACKBOARD STYLE
Because offices are intrinsically learning and cognitive spaces. You can also go for a chalkboard paint office accent wall design. They are great for offices and can be coordinated with contemporary wall panels which look sincere and smart.
13. MURAL PAINTINGS ALSO LOOK AWESOME
Offices are great places to opt for mural paintings and 3d wall panel design and art. They look lovely and super attractive. It makes the place practical and human as everyone loves art forms.
Go for different designs and colors!
14. TEXTURED OFFICE ROOM ACCENT WALL
One really striking look can be using textured wall panels for office décor. They look suave and functional. Just normal paint and cement are not exciting enough for that ultimate finish.
Try using wood, acrylic tiles, textured wood panels, and other materials used for wall paneling for that perfect look
15. YOU CAN ALSO CHOOSE A LIGHT SHADE OR A MONOCHROME FOR A DRAMATIC EFFECT
People generally go for dark and rust shades for accent walls. Instead, you can try painting the other walls dark and go for white or crème in the center.
Accent walls look great in white. They particularly stand out and look a class apart. With the other walls being in darker hues, the accent wall looks striking and effective.
16. PLAY WITH PATTERNS
Mismatched patterns in the office specially on the accent wall looks really electrifying and attractive. Complement it with transparent curtains and blinds. They look smart and pleasing.
17. GO FOR WALLPAPERS
If you can't go for something bold, you can always opt for rolls of felt fabric together with customized wallpapers. They are really colorful and don't cost much. In a frugal budget, you can add a lot of colors and designs to your office accent wall décor.
18. RUSTIC AND VINTAGE
Many people are extremely fond of rustic interiors. Be it your office or your living space, you can always go for a brick accent wall. It looks great and has this urbane charm about it, together with having a rustic appeal.
19. A LAID-BACK LOOK
Sometimes, accent walls look really great when there is no fluff.
Believe us, sometimes, the minimalistic look also does big wonders. Just add a rich layer of a felt panel for accent walls and interiors and you're done! It looks awesome and exhilarating. The best thing is it really oozes oomph and style without doing much!
20. GO SERENE AND CALM
An accent wall looks great in deep blue or sea-green.
Yes, apart from looking really phenomenal, it adds a sense of purity, calmness, and serenity. Most of all it's all about that perfect scenic beauty. You get a chance to bring the outside landscape and scenic beauty to the inside of your office. Adding to this, it looks really alluring and scintillating.
21. AN ASSORTMENT AND VARIETY OF MATERIALS
One very effective and helpful trick is to use an assortment of different materials like acrylic wall panels, acoustic felt roll, textured wall panels, etc to go for an assembled and useful look.
Acoustic felt rolls are helpful in shunning that unwanted noise and cacophony. An assorted look is eclectic and stylish. It's also practical and posh. Many designers opt for an assembled look, especially for office spaces. There is something to lure everybody. It's not boring and watching it is fun and interesting.
For example- textured wood panels may be liked by some, for others, acrylic designs can be interesting and appealing. It depends upon person to person and individual tastes.
22. MULTI-DIMENSIONAL DESIGNS AND STYLE
Last but not least, a 3d feature wall together with a ravishing color palette is sure to attract attention. The combination is mind-blowing when displayed on accent walls. It looks aesthetically appealing and amazingly modern.
Nowadays, 3d decorative wall panels and modern wall panels are used abundantly for office interiors. They aren't heavy on the pockets and fall within the office renovation budget easily.
There are other designs and ideas which also make a huge difference to the office décor ideas and wall designs. The idea is to make the office look innovative, stylish and contemporary.
Pro-tip:
Always make sure that whichever idea you go for, the quality of the product should be exceptional. After all, it's about office décor and you can never take a chance. Also, make sure the plan suits your budget and doesn't go overboard. All said and done, office décor is all about choosing the right designs and style.
Another important thing to remember is that all offices are not the same. One size doesn't fit all. By this what we mean, is that the demands of one place can be quite different from the other. So, make your own wise decision and deck up your office wall, the way you would want it to be
Choose the design and décor patiently. Make the accented walls of your office the talk of the town!