Use These 8 Decor Ideas to Make Your Event Hall Vibrant
---
Reach out to our sales team to get your next project solved!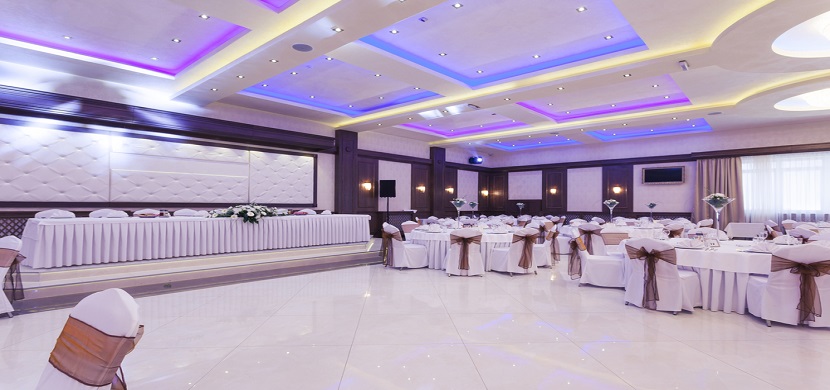 If you're in the business of event management, you know that hosting even the smallest of debates or lectures can be a highly stressful project. From chalking up the guest list to negotiating rates with the caterer to arranging transport for your guests to ensuring everything runs on schedule, managing an event of any kind is an exercise in patience. Among the most important to-dos on the list is decorating your event hall – a mammoth task on its own as you rush from décor shop to décor shop looking for items that are stylish without being flashy. Decorating an event hall, however, doesn't have to be that stressful – as long as you get some basics right. Read on to know about some fool-proof décor tips that work perfectly for any event.
DESIGN AN IMPRESSIVE ENTRANCE
The first impression your event hall creates is often the lasting impression for your guests. Design an attractive entrance that catches the eye and draws your guests inside. A floral archway is a classic choice and one that suits almost any event – a red-carpet style entry is also highly popular these days, particularly among millennial crowds. If your budget permits, you can create a more unconventional archway by tacking decorative acoustic felt panels around your entrance in a pattern. Bamboo wall panels are ideal, owing to their neutral color and aesthetically textured look. And you can always take them down after the event!
ADD EYE-CATCHING WALL ART
Particularly if you have a plain wallpaper, tasteful wall art makes a great difference to any event. Banners and streamers are an obvious and inexpensive choice for adding glamour – if you have the budget for it, though, opt for some decorative wall panels for a classy touch. There are multiple options available in cheap interior wall paneling, and you can take them down after the event to be stored for future use. Choose panels with tasteful artwork on them, like etchings or miniature paintings. You can also use modern 3D wall panels for an unorthodox touch.
TACK ON SOME ACOUSTIC PANELS
At pretty much any event, there's bound to be someone speaking, and there will always be some guests who complain about not being able to hear what's being said. Moreover, it may not always be possible to position speakers everywhere. For a simple solution, therefore, put up some acoustic foam panels at strategic points around the room! Sound foam is a fairly inexpensive substance, and you can even make the panels yourself at a pinch. Make sure you cover all the corners at a distance from the stage and use colors that blend in with the rest of the wall.
CREATE A PHOTO STAND
Most guests to an event like to brag about their attendance to the world – and that means photos and selfies aplenty. Give them the perfect photo backdrop by creating a designated picture stand. Make sure it's in a well-lit corner so that photos come out well! You can keep your photo stand as simple or as extravagant as you like. One option that works almost everywhere is to create a backdrop using textured felt wall panels, with some pinned-up wreaths of flowers on either side. Ensure, however, that your panels aren't made of reflective material, or the glare could spoil the photo quality.
MAKE STRATEGIC USE OF LIGHTING
Any kind of event involves photography, and it's crucial for your lighting to be conducive to good photography. Position your lights so that they cover the whole room but are not directly in the path of the audience's gaze. Footlights are an essential part of any stage and can be used to create different kinds of ambiances. Opt for colored footlights that are flashed in sync with the music for a dance performance, and use small yellow footlights to draw attention to a lecturer or participants in a play.
GET CREATIVE WITH THE REFRESHMENTS TABLE
Whether you're hosting a fund-raising or a mime show, people will be spending a lot of time at the refreshments area. Apart from ensuring that you have a variety of food choices from a top-notch caterer, therefore, add decorative touches to the table and presentation. Use creatively designed holders and plates to draw people's attention, and add extra touches like a sprig of lavender or a silk ribbon around each glass. Needless to say, use the best crockery, cutlery, and glassware that your budget permits.
USE QUALITY DRAPES FOR A CLASSIC STAGE BACKGROUND
The one thing you should invest in without a second thought is a set of high-quality drapes for your stage. Chosen in the right color and fabric, they form a perfect backdrop for any event, however serious or light-hearted. Solid-colored drapes are also the ideal backdrop for photography and for casting lights. Choose heavy silk or brocade fabric that won't tear or fade, and opt for a muted color – like wine, olive green or navy blue – that doesn't distract attention from whatever is happening onstage. If you can find them, opt for some noise reducing curtains – they help to absorb background disturbances and improve the sound quality of your program. Choosing the right décor for your event is undoubtedly an important task, but it's helpful to remember that all good décor relies on certain basic principles. By keeping the above tips in mind, therefore, you can design a hall that's attractive, sophisticated and the perfect setting for a memorable event.